Learning the Alexander Technique
About your Alexander Technique lessons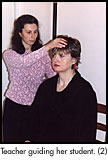 Each person's habits and learning needs are so different that lessons are typically taught privately. Because lessons involve activities such as sitting, standing, lying down, or walking, you should dress comfortably.

During your lesson, the teacher uses gentle, non-manipulative touch to guide you through simple movements. In the process, you are taught to use your thought-process in a new way, which helps you become conscious of and stop perpetuating those habits that come in the way of your natural poise and functioning.

The skills you learn can be gradually transferred from your lessons to your everyday life. As this happens, undue tension is eliminated before it can create harm, your performance improves, and you are able to react as you choose in any situation.

You gain a clarity and ease that stay with you as long as you apply the principles of the Alexander Technique.